Saturday, 8 am – 1 pm; All Year Round, Rain or Shine
Enjoy over 55 vendors, live music and a large variety of fresh fruits and vegetables, as well as specialty foods! Located in the beautiful Historic District of Folsom. Open all year round,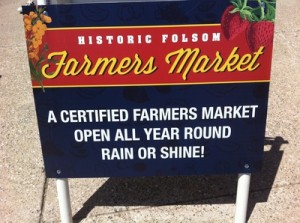 rain or shine on Saturdays from 8 am – 1 pm.
Over 55 vendors and farmers will serve the families of Orangevale, Folsom, and El Dorado Hills with a huge variety of local produce and specialty foods. A destination for bike riders, families and pets too! Come eat, play, taste and laugh every week. Open all year round, rain or shine! Street parking is FREE and Farmers Market Parking will be offered for FREE at the Folsom Station Parking Garage.