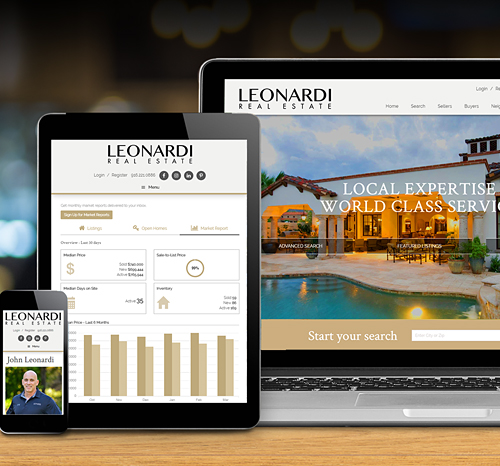 Get to know
LEONARDI REAL ESTATE
We are a full-service, boutique brokerage specializing in residential real estate throughout Folsom, El Dorado Hills, Granite Bay and Greater Sacramento metro region.
Leonardi Real Estate is built on trust we've earned through more than a decade of exceptional service. In the communities where we live, work and play, we are trusted advisers, friends and neighbors. The vast majority of our clients return for all of their real estate needs. A true testament to the outstanding customer experience we provide.
We provide a powerful combination of innovative technology, local expertise and world-class service to help our clients make informed and educated decisions.
Why choose a boutique firm?
A boutique firm is a small office staffed with hand-picked, well-vetted, top-tier professionals. Boutiques offer superior customer service and specialized marketing for a small number of clients at a time. Many may consider a "boutique" firm to cater only to high-end clients, or possibly too small to break into the competitive real estate market. In reality, boutique firms are extremely specialized businesses with a culture centered on service, professionalism and innovation. In fact, boutique firms have been the trailblazers for innovative marketing strategies such as blogging, website services, social media advertising and video tours.
Boutique firms tend to be a bit more nimble; reacting quickly and pivoting to the market for the best needs of their clients. Boutique firms are driven on establishing strong relationships and positive experiences that yield repeat-business and referrals.
With a boutique firm, you can be certain that they'll work harder for you. When it comes to larger national franchises, there's always the risk of complacency. If something goes wrong, they'll still have their big national brand name to fall back on. Boutique firms can't get by on national name recognition. They must consistently deliver excellent work to develop and maintain their reputation and client relationships.
We're Here For You.
Quality over Quantity.
We measure our success by happy clients rather than aggressive franchise-imposed sales goals. Every client we serve is the center of our efforts, always striving to create a positive buying or selling experience and build long lasting relationships with our clients.
Local Leader.
We know the local market and housing inventory better than anyone. We can advise you on effective selling and buying strategies to ensure you have a great experience navigating the complex steps of buying or selling a home.
Innovation, flexibility, Support.
Having instant access with the company owner provides greater flexibility, quick and cutting-edge customization. When you sign on with a Leonardi Real Estate, you also get the support of the entire team, not just a single agent.
Community First.
Your community is our community. Leonardi is intensely local and invested in supporting a beautiful and welcoming community. You'll find us volunteering, sponsoring and giving back to the community where we live, work and play. With a focus on community, our team intimately knows its neighborhoods, schools, amenities, local contractors, and other real estate agents.
Local Recognition.
As a local award winning independent boutique brokerage, we're proud of our team and accomplishments. Read More…