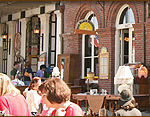 Saturday, September 13, 2014
The 47th Antique Peddlers Fair will take place on Saturday, September 13, 2014 from 8 am to 4 pm, rain or shine on Historic Sutter Street. Four blocks will be filled with a great selection of antiques and collectibles. Admission is free. Great food and live entertainment will also be featured. Don't miss this Historic Folsom favorite event that draws up to 10,000 shoppers!
PUBLIC PARKING: Please park in the parking structure located at 905 Leidesdorff Street at the corner of Reading Street and Leidesdorff Street.
Click HERE to See Event Website